Facebook, the world's leading social networking website has added something new to its suite of services and auto dealers ought to be very interested in this new addition. It's called "Facebook Marketplace" and it is a new user generated classifieds section which Facebook members can post ads for all sorts of items for sale, including used vehicles.
Facebook Marketplace adds an entirely new reason for car dealers to put focus on reaching consumers not only through their social pages, but the marketplace where there is a new opportunity to add and upload all vehicle inventory to the site. Facebook users search and find used vehicles in a variety of ways with typical search options you would expect in a classifieds website. There is also a price rating feature which lets customers know if a price is considered high or low, similar to what has grown popular on sites such as CarGurus.
However, getting all your vehicles on Facebook Marketplace can be a time consuming and extremely tedious task, especially considering vehicles also need to be removed once sold or no longer available. Much like our Craigslist Posting Service, Cars Digital has automated this process aswell, creating an entirely hands-off solution for dealers to list their inventory on Facebook Marketplace through our authorized marketplace listing service.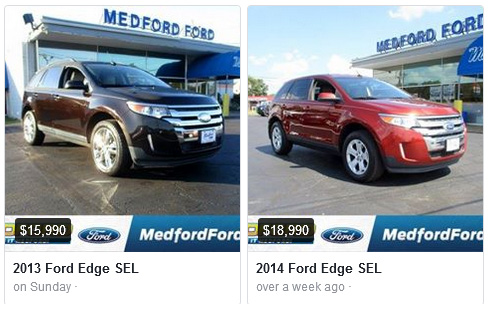 If you are looking for a feed provider or data export service which can include Facebook Marketplace, you have found the perfect solution. Just signup for one of our packages which includes "Facebook Marketplace" and our software will syndicate your inventory to Facebook with an automated feed which will dynamically add you vehicles, all corresponding information including pricing, trim, options, images, etc. and we will automatically remove inventory once the vehicle is sold.

Millions of people use marketplace each day for used cars.

More potential buyers equals more opportunities for test drives.

Cars Digital handles your Facebook messenger monitoring for you.

Reach people where they're already browsing vehicle listings.

Automatically targets people with phone-friendly listings.

Facebook has in the area of two billion total users.

We optimize your listings for maximum conversions.

Listings benefit from social media recommendations.

Facebook users are increasing day by day.

Consumers know exactly why they're submitting their information.

Receive more leads with the same budget you already have.
We also provide these
Dealer Services
Bulk Mailers

Read in-market auto attenders with bulk postal mail.
Conquest Email

Target manufacturer-specific individuals via email.
Vehicle Syndication

Send your inventory to multiple sites and apps with buyers.
Video Production

Set your dealership apart with quality video interviews.
DEALER MANAGEMENT SYSTEM TECHNOLOGIES