If you are running a car dealership and have inventory for sale you know you need leads, especially if you are a used car dealer. Franchise stores have more marketing muscle but do face challenges in their used car departments and the UCM, or used car manager, is ultimately responsible for pushing metal over the curb, and how to get that done is the Holy Grail to your stores sales success. You need leads, that is, interested parties or consumers looking to get into and drive the vehicles you have on the lot and you need a great deal of leads to generate high volumn sales.
---
Phone call leads are delivered by tracking phone numbers, voice recorded, include Caller ID, can be listened to, and are sent for reporting purposes as soon as each call ends.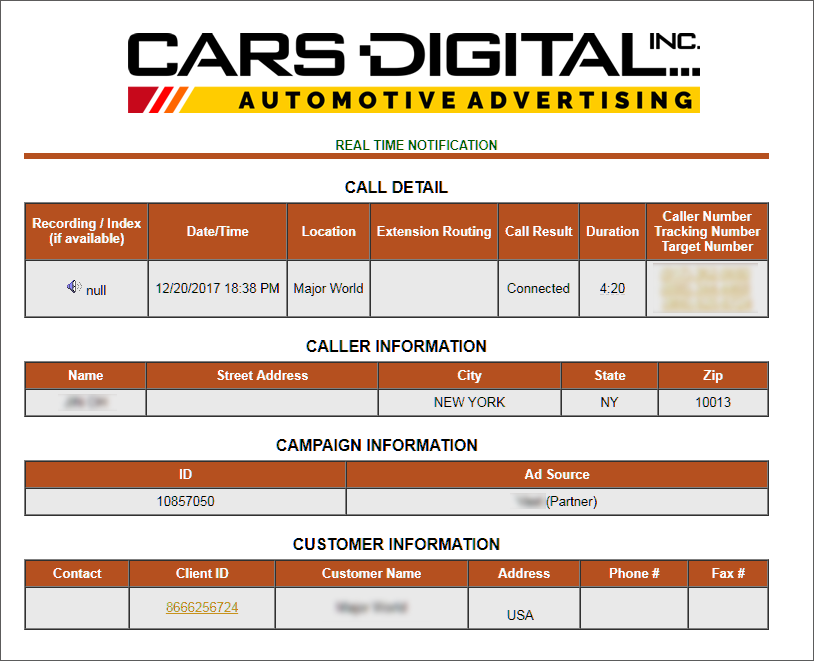 ---
Our company generates hundreds of leads per hour to our participating dealers and these leads come from the Internet, ad-programs such as Google AdWords, classified sites such as Craigslist, and partner automotive portals which we have worked out agreements with for vehicle syndication. At the end of the day, our services get dealer phones ringing, and CRM and inboxes filled with email leads. It is then, the responsibility of the individual dealers to respond, quote, book appointments, and get those consumers into the dealership. We're not able to sell the vehicle for you (yet), but we certainly generate the interest needed to make it happen.
---
Email leads are sent in HTML or ADF format and can be CC'd and BCC'd to as many recipients and CRM systems that are desired.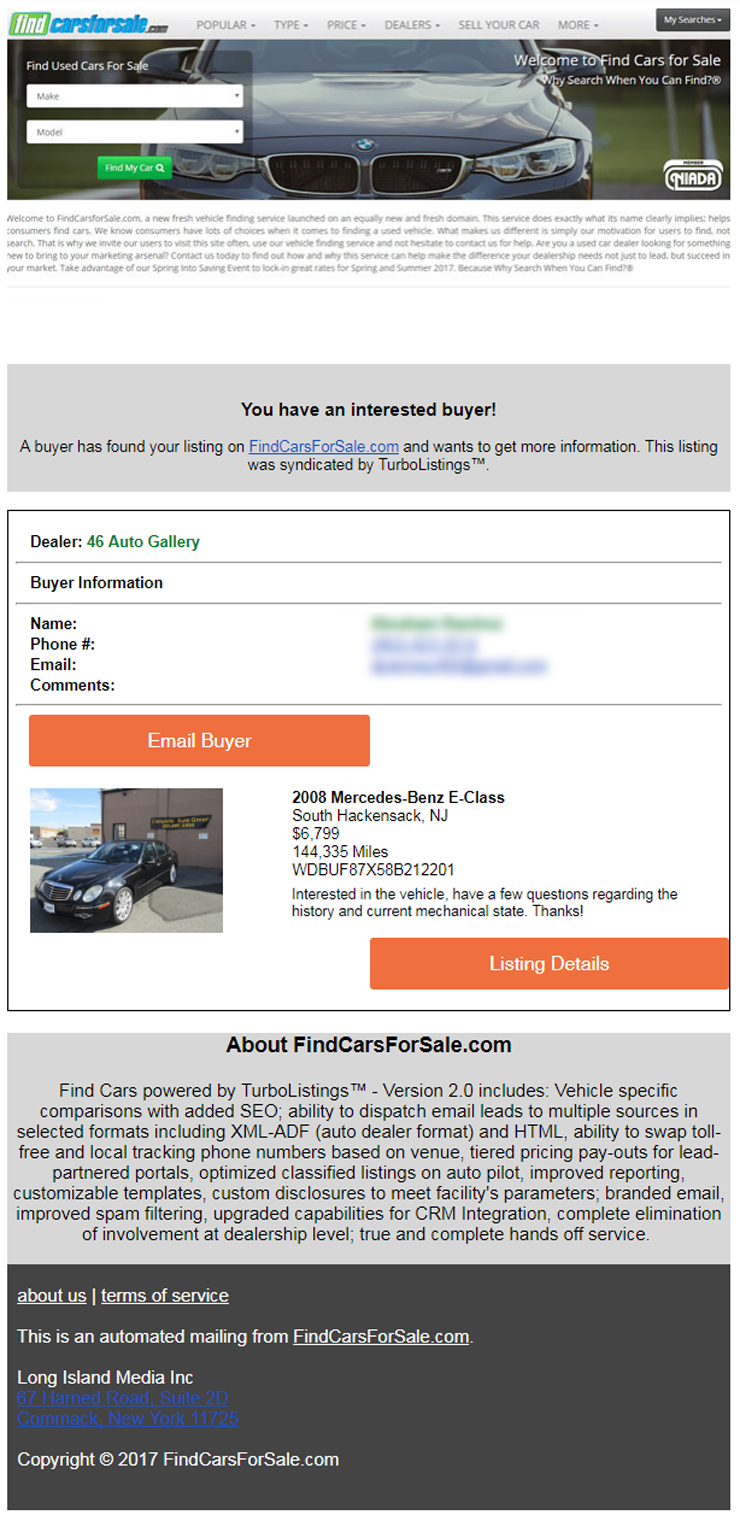 ---
Our lead generation programs deliver large numbers of inquiries and if you currently run a dealership now, you know that not all leads equal sales; each and every one is an 'opportunity' knocking. What you do with that opportunity determines how many cars you sell. Some leads are ready to buy, some don't show, and some either can't afford the vehicle they're interested in, and for some financing is out of reach. Our services get people to notice you online, which is, with an Internet near-littered with vehicles for sale, more than half the battle. As I always say to our participating dealers, I would rather have 100 leads with a weaker, say 50% conversion, then 10 leads with even as high as a 100% conversion. Becuase at the end of the day, the dealer with the most leads wins.

Are your sales people handing your calls properly?

Are you purchasing vehicles the used car market demands?

Are you taking advantage of a CRM at this time?

If so, do your sales reps record ALL inquiries in your CRM?

Are you following up with consumers quickly enough?

Is your BDC department knowledgeable about your inventory including alternative units?

Are your prices in-line with market values?

Are you purchasing wholesale to avoid the auctions?

Are your phones connecting to representatives instantly or are excessive hold-times costing you customers?

Is it really necessary to have an auto-attendant on sales calls?
We also provide these
Dealer Services
Bulk Mailers

Read in-market auto attenders with bulk postal mail.
Conquest Email

Target manufacturer-specific individuals via email.
Vehicle Syndication

Send your inventory to multiple sites and apps with buyers.
Video Production

Set your dealership apart with quality video interviews.
DEALER MANAGEMENT SYSTEM TECHNOLOGIES